Enviroflex GmbH supplies Bauxite Sorbent for both distilled oil polishing, and Transformer Oil Regeneration formulated and mixed according to our experience in this field and a lot of tests.
Enviroflex GmbH delivers to our customers who has purchased our oil polishing units with special prices and terms.
Activated Bauxite is an adsorbent consisting of Aluminum Oxide-gamma.
It is used in the petrochemical industry and in fuel jet clarification. 
Another important application has been in paraffin and naphthenic insulation oil regeneration used in transformers. Both applications use the percolation process
The specification and analysis of our products are: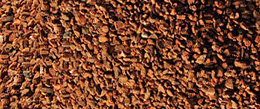 The activated bauxite has adsorption characteristics.
So in Oil Treatment, it can be used well and nicely!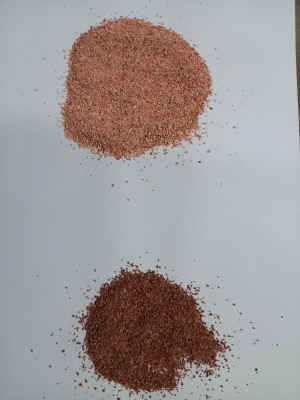 Product Name: Activated Bauxite Sorbent, ENF-BUX-SOR
Product Codes: ENF-BUX-SOR-B & ENF-BUX -SOR-T
Common chemical composition:  Al2O3.xH2O calcined
Appearance: Solid               
Form: Angular grains     
Colour: Reddish      
Odour: Odourless
Loose Density: 0.96 g/cm3 
Apparent Density: 2.84 g/cm3
PH: Neutral
Solubility: Insoluble in water
Commercial Size: # 20/50
Packing: big bags or sacks of paper
| | | |
| --- | --- | --- |
| Chemical Composition |   |              % |
| Loss on Ignition 1.000°C |   | 4.23 |
| Silicon Oxide | SiO2 | 10.0 |
| Titanium Oxide | TiO2 | 0.91 |
| Iron Oxide | Fe2O3 | 7.15 |
| Potassium Oxide | K2O | 0.13 |
| Aluminium Oxide | Al2O3 | 77.0 |
| Calcium Oxide | CaO | 0.01 |
| Magnesium Oxide | MgO | 0.01 |
| Sodium Oxide | Na2O | 0.01 |
| | | |
| --- | --- | --- |
| Mineralogical Composition |   |   |
| Aluminum Oxide–alpha |   | –Al2O3 |
| Hematite |   | Fe2O3 |
| Aluminum Oxide–gamma |   | –Al2O3 |
| Bohemite |   | AlOOH |
| Anatase |   | TiO2 |
Typical Properties

 

 

Adsorption to Azobenzene

Bulk Density

 

35.9 mL

1.00 g/

Loss on Abrasion

Humidity

 

13.3%

  1.10%
EXHIBITIONS & PRESENTATIONS